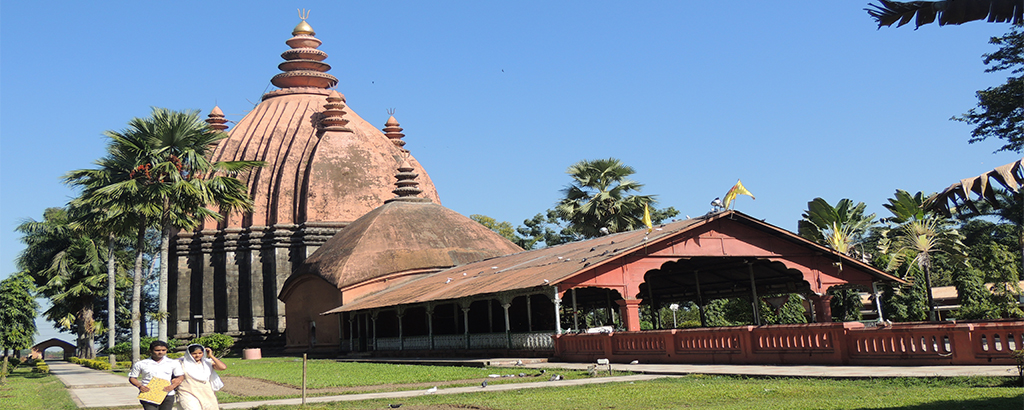 INCREDIBLE  ASSAM  (12 DAYS /  11 NIGHTS) :
DAY-1
Arrive Guwahati :
Arrive Gopinath Bordoloi International Airport, Guwahati. You will find me waiting outside the airport. Drive straight to Kamakhya Temple, a very active and lively temple of Mother Goddess located at the Nilachal Hillock. The temple is famous for its tantric rites and very colourful because of the abundance of devotees. One can have a very good view of the city from the top. Then check into a luxurious city hotel or a luxurious home stay. After lunch, visit 'Kalakshetra', a place where Assamese history and culture is depicted in a sprawling enclosure. Return to hotel. Dinner and overnight.
DAY-2
Guwahati – Day trip to Hajo and Sualkuchi
(Drive from Guwahati to Sualkuchi -35 kms /1 hour – Hajo –15 kms)
After breakfast drive to Sualkuchi – the silk village of Assam which is situated on the bank of the river Brahmaputra. The village presents ample opportunities to experience the rich history and local culture. You can see the whole process of manufacturing of Assamese silk and Muga Silk with the golden amber. Drive to Hajo, a place where three religions meet – Hinduism, Islam and Buddhism and visit Hayagriva Madhava Temple and Powa-Mecca. Return to Guwahati by late afternoon. Dinner and overnight.
Guwahati—Guwahati is a unique gateway- a starting point for the North eastern states. The city of Guwahati once known as Pragjyotishpur in the days of yore, has a chequered history. Kamrup, the former name of Guwahati finds reference in the Indian epics Ramayan and Mahabharat. This state capital is now one of the fast growing cities of India
DAY-3
—(NAGAON)
( Distance from Nagaon to Guwahati is 120 kms / 2hours roughly).
After breakfast drive an hour to reach Nagaon and check in the hotel Abhinandan International. After some refreshment, drive an hour to Borduwa. Borduwa is the birth place of 15th c saint scholar Sankardeva who started a new religious movement in Assam. There you see the main temple and the life style of the monks. Drive back to Nagaon have lunch. In the evening cocktail dinner in a village resort Jasingfa under the open sky and meet an internationally acclaimed artist and a musician. A special programme will be arranged for you of art and music. Dinner & overnight.
DAY-4
(TEZPUR) : After breakfast drive roughly for an hour to reach Tezpur, one of the most beautiful towns of Assam with both plains and hills. Check in a nice city hotel. After lunch, we visit 6th c temple ruin of Da-Parbatia, Agni Garh, a nicely located park from where one can have a very good view of the city and the river Brahmaputra and then explore the lovely and lively market of Tezpur known as Chowk Bazaar. Overnight in the hotel. In the evening, there will be a very special cultural programme. The group with the help of their dance and music will showcase the rich ethnic heritage of the entire North East region in front of you. Overnight in the hotel.
DAY-5
(Nameri National Park)– Today after breakfast drive for an hour and half to reach Nameri National Park. Once we are there we will check in to Eco camp located amidst the park. After having a cup of tea, coffee or a bowl of soup we will go to the rafting point of the park. Rafting in the Jia Bharali river for two hours. Come back to Eco camp for lunch and post lunch walk in a neary by village before coming back to Tezpur. Dinner & overnight.
DAY-6
(KAZIRANGA NATIONAL PARK)– Today, after a relaxing breakfast drive one and half hours roughly to reach the Kaziranga National Park. Check into a jungle lodge. Have a light refreshment and start your jeep safari in one of the ranges of the park accompanied by an expert naturalist. Lunch in the lodge. Afternoon, visit a traditional Assamese weaving centre. Dinner and overnight.
DAY-7
(KAZIRANGA)– Early morning we will see the Kaziranga National Park (Central range) on elephant back. Apart from the Rhino, other species found are hog deer, swamp deer, wild buffalo, elephants and if you are lucky, the tiger. It is virtually a paradise for bird watchers, with a variety of migratory and resident birds. It is also home to pelicans, storks and darters as there are a number of water bodies inside the Park. We will return to the lodge for breakfast or have breakfast inside the park(as you wish). Post breakfast visit a traditional Assamese or a tribal village. Lunch in the lodge and afternoon, another jeep safari in a different range of the park accompanied by an expert naturalist. Dinner and overnight.
DAY-8
(MAJULI ISLAND)— Today after an early breakfast, drive for roughly two & half hours to reach Neamati ghat ferry point to go to the famous Majuli Island. We will take a motorized country boat which will take two hours to reach Majuli, the largest river island in the world. Majuli island is famous for the 15th c Hindu Monasteries or the Satras. We will visit the satras, interact with the monks. A monastery which is famous for mask making, we will go there to see it thoroughly and a special dance drama performance by the monks of the monastery for you wearing their traditional attire. Lunch in the monastery. After lunch visit a near by Mishing tribal village. Then check in to luxurious cottage constructed on stilts amidst nature with all facilities. Dinner & overnight, if you want enjoy the local rice beer or rice wine.
DAY-9
( Sivsagar)– Today after breakfast we take the ferry back again to Nemati ghat and drive for an hour & half to visit some of the gorgeous medieval architectural monuments of the historic town of Sivsagar. Shiva Dol, the tallest Shiva temple of Asia, Rang Ghar, the oldest ampi-theatre of Asia, Talatal ghar, the royal palace and the Tai-Ahom Museum. After the visit we drive for an hour to Haroocharai Tea estate in Jorhat. Located in a magnificent place in the midst of the tea gardens and owned by a lovely bright couple Rajib and Indrani Barooah, we enjoy their hospitality and have a traditional Assamese lunch. After lunch enjoy a traditional dance of the tea tribe people along with a cup of garden fresh Assam Tea. Then check in to a luxurious city hotel in Jorhat.
DAY-10
(DIBRUGARH)–After breakfast, drive for two & half hours roughly to Dibrugarh. Drive straight to a Heritage Tea Bunglow. After lunch, we will have a tea garden walk. Bihu, a folk dance will be presented in the evening for your entertainment. Overnight in the Heritage Tea Bunglow.
DAY-11
(DIGBOI)—Today after an early breakfast we drive to Digboi (80 kms, roughly 2 hours), the first oil town of South Asia. We Visit the Oil Museum and the 2nd World War Allied Forces Cemetery where 200 graves are permanently maintained by the Commonwealth War Graves Commission. Lunch enroute in a beautifully located roadside restaurant. Drive back to Dibrugarh. Overnight in the Tea Bunglow.
Note.- Digboi museum remains closed on Mondays.
DAY-12
After breakfast, transfer to nearby Dibrugarh airport to catch up your flight on time
Click To Know More About Kaziranga National Park
KAZIRANGA NATIONAL PARK—
The history of Kaziranga National Park (KNP) dates back to 1904 when Mary Victoria Leiter Curzon, wife of then Viceroy of India Lord Curzon came to Assam to visit KNP so that she can have a glimpse of the world famous one horned rhino. But unfortunately, she had to satisfy herself only with the pug mark of the rhino. Being totally disappointed, she urged her husband Lord Curzon to make the immediate measures to preserve this nice mammal. Lord Curzon who understood the need of the hour and on June 1, 1905 "Kaziranga Proposed Reserve Forest" was created with an area of 232 sq kms. Over the years, the area got extended by 152 sq kms and in 1908 Kaziranga got the status of "Reserve Forest". In 1916, it was designated as "Game Sanctuary" and it continued to be so till 1938. 1950 was another landmark year for KNP when then forest conservator P.D. Stracey renamed it as "Kaziranga Wildlife Sanctuary". In 1968, the state govt. had taken a vital step by passing "The Assam National Park Act of 1968" and declared Kaziranga as the designated National Park. On 11th February 1974, govt. of India had declared Kaziranga as the National Park with 432sq kms area. Finally it was a time of glory for the park and to all its well wishers when in 1985 UNESCO had declared KNP as the "World Heritage Site" for its unique natural beauty and fabulous fauna.
At present KNP has the core area of 432sq kms and its equal size of buffer zone. KNP is 40kms in length from east to west and 13kms in breadth from North to South. Kaziranga National Park is spread out in this huge area in the Kaliabor Subdivision of Nagaon district and in the Bokakhat subdivision of Golaghat district in the Indian state of Assam. KNP is divided in 4 ranges for its proper administration. The ranges are – Burhapahar Range (Ghorakati Forest Range Office), Western Range (Bagori Forest Range Office), Central Range (Kohora Forest Range Office) and Eastern Range (Agoratoli Forest Range Office). All the ranges have their own unique beauty and density of mammals and birds. Burhapahar range is famous for hollock gibbons and cap langurs ,western range supposedly has the highest population of one horned rhino.The number of tigers is the highest in the central range and for the birders the eastern range is considered as the paradise.