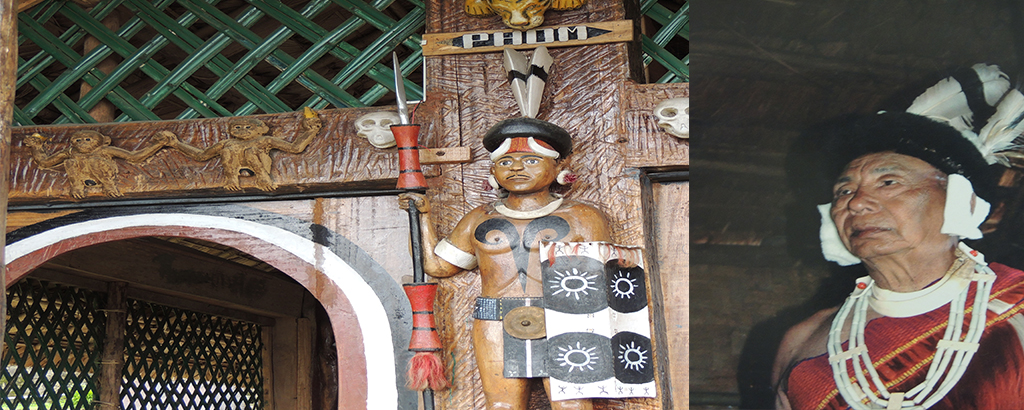 INCREDIBLE ASSAM AND HORNBILL FESTIVAL IN  NAGALAND—-(12 DAYS / 11 NIGHTS)
ABOUT KAZIRANGA NATIONAL PARK

:

The history of Kaziranga National Park (KNP) dates back to 1904 when Mary Victoria Leiter Curzon, wife of then Viceroy of India Lord Curzon came to Assam to visit KNP so that she can have a glimpse of the world famous one horned rhino. But unfortunately, she had to satisfy herself only with the pug mark of the rhino. Being totally disappointed, she urged her husband Lord Curzon to make the immediate measures to preserve this nice mammal. Lord Curzon who understood the need of the hour and on June 1, 1905 "Kaziranga Proposed Reserve Forest" was created with an area of 232 sq kms. Over the years, the area got extended by 152 sq kms and in 1908 Kaziranga got the status of "Reserve Forest". In 1916, it was designated as "Game Sanctuary" and it continued to be so till 1938. 1950 was another landmark year for KNP when then forest conservator P.D. Stracey renamed it as "Kaziranga Wildlife Sanctuary". In 1968, the state govt. had taken a vital step by passing "The Assam National Park Act of 1968" and declared Kaziranga as the designated National Park. On 11th February 1974, govt. of India had declared Kaziranga as the National Park with 432sq kms area.
DAY-1
–(DIBRUGARH)Fly to Dibrugarh. You will find me waiting for you outside the airport. Drive straight to a Heritage Tea Bunglow. After lunch, we will have a tea garden walk. Bihu, a folk dance will be presented in the evening for your entertainment. Overnight in the Heritage Tea Bunglow
DAY-2
—(DIGBOI)-Today after an early breakfast we drive to Digboi (80 kms, roughly 2 hours), the first oil town of South Asia. We Visit the Oil Museum and the 2nd World War Allied Forces Cemetery where 200 graves are permanently maintained by the Commonwealth War Graves Commission. Lunch enroute in a beautifully located roadside restaurant. Drive to Sivsagar (roughly 4 hours). Check in a luxurious city hotel and overnight. Enjoy chilled beer and relax.
DAY-3
—(SIVSAGAR)–Today after breakfast we drive for ten minutes to visit some of the gorgeous medieval architectural monuments of the historic town of Sivsagar. Shiva Dol, the tallest Shiva temple of Asia, Rang Ghar, the oldest ampi-theatre of Asia, Talatal ghar, the royal palace and the Tai-Ahom Museum. After the visit we drive for an hour to Haroocharai Tea estate in Jorhat. Located in a magnificent place in the midst of the tea gardens and owned by a lovely bright couple Rajib and Indrani Barooah, we enjoy their hospitality and have a traditional Assamese lunch. After lunch enjoy a traditional dance of the tea tribe people along with a cup of garden fresh Assam Tea. Drive back to Sivsagar and overnight.
DAY-4
—(TEZPUR)– After breakfast drive roughly for four hours to reach Tezpur, one of the most beautiful towns of Assam with both plains and hills. Check in a nice city hotel. After lunch, we visit 6th c temple ruin of Da-Parbatia, Agni Garh, a nicely located park from where one can have a very good view of the city and the river Brahmaputra and then explore the lovely and lively market of Tezpur known as Chowk Bazaar. In the evening, there will be a very special cultural programme. The group with the help of their dance and music will showcase the rich ethnic heritage of the entire North East region in front of you. Overnight in the hotel
DAY-5
—(KAZIRANGA N.P)– After a relaxing breakfast drive one and half hours roughly to reach the Kaziranga National Park. Check into a jungle lodge. Have a light refreshment and start your jeep safari in one of the ranges of the park accompanied by an expert naturalist. Lunch in the lodge. Afternoon, visit a traditional Assamese weaving centre. Dinner and overnight.
DAY-6
—(KAZIRANGA N.P)– Early morning we will see the Kaziranga National Park (Central range) on elephant back. Apart from the Rhino, other species found are hog deer, swamp deer, wild buffalo, elephants and if you are lucky, the tiger. It is virtually a paradise for bird watchers, with a variety of migratory and resident birds. It is also home to pelicans, storks and darters as there are a number of water bodies inside the Park. We will return to the lodge for breakfast or have breakfast inside the park(as you wish). Post breakfast visit a traditional Assamese or a tribal village. Lunch in the lodge and afternoon, another jeep safari in a different range of the park accompanied by an expert naturalist. Dinner and overnight.
DAY-7
—(NAGAON) After breakfast drive for roughly two hours to reach Nagaon and check in the hotel Abhinandan International. After some refreshment, drive an hour to Borduwa. Borduwa is the birth place of 15th c saint scholar Sankardeva who started a new religious movement in Assam. There you see the main temple and the life style of the monks. Drive back to Nagaon have lunch. In the evening meet an internationally acclaimed artist and a musician. A special programme will be arranged for you of art and music.
DAY-8
—(NAGAON-KOHIMA)- Today after morning tea we drive for half an hour to Chaparmukh Junction of Nagaon to catch Jana Satabdi Express to Dimapur, the commercial capital of Nagaland. After reaching Dimapur drive two and half hours to reach Kohima, the capital of Nagaland. The drive from Dimapur to Kohima is extremely beautiful with lush green hills and lakes. Check in to Hotel Japfu, a nice hotel located in PR Hill in Kohima. Evening explore the local tribal market.
N.B– We will carry our packed breakfast this morning. Jan Satabdi express is an AC chair class train. The journey from Chaparmukh to Kohima is of 4 hours. The road condition from Dimapur to Kohima is not very good in some of the portions.
DAY-9
—(KOHIMA)–Today after breakfast we have a city tour of Kohima which includes Commonwealth War Grave cemetery of WW-II, walk in the local market and town . Lunch and evening at ease or if you want an another walk in the town. Dinner and overnight
DAY-10
—(HORN BILL FESTIVAL)– Today after breakfast, drive half an hour to reach the Kisama Naga Heritage village to enjoy internationally famous HORN BILL FESTIVAL. Whole day at the Horn Bill festival, lunch at the festival site. Dinner and overnight in Kohima city.
DAY-11
—(HORN BILL FESTIVAL)– Have a relaxing breakfast and drive again to Hornbill Festival site. Whole day at the festival. Lunch at the festival site. Dinner and overnight in the city of Kohima.
Hornbill Festival—The Festival is named after the Indian Hornbill, the large and colourful forest bird which is displayed in folklore in most of the state's tribes.
The week long festival unites one and all in Nagaland and people enjoy the colourful performances, crafts, sports, food fairs, games and ceremonies. Traditional arts which include paintings, wood carvings, and sculptures are also on display.[5]
Festival highlights include the Traditional Naga Morungs Exhibition and sale of Arts and Crafts, Food Stalls, Herbal Medicine Stalls, Flower shows and sales, Cultural Medley – songs and dances, Fashion shows, Beauty Contest, Traditional Archery, Naga wrestling, Indigenous Games, and Musical concert.[1]
The Hornbill Festival provides a colourful mixture of dances, performances, crafts, parades, games, sports, food fairs and religious ceremonies. The festival both exposes the culture and tradition of tribal peoples, and reinforces Nagaland's identity as a unique state in India's federal union
DAY-12
DIMAPUR)– After breakfast, transfer to Dimapur airport to catch your flight to Kolkata/Delhi or elsewhere or take a train back to Guwahati to fly back from Guwahati